Each member of the jury must assess the pyro-musical shows in accordance with the following criteria :
– Quality and originality of the fireworks : colours and forms
– Soundtrack : musical choices, sequences
– Synchronization : precision between the sound effects and the fireworks, choice of tempo
– General artistic impression : tableaux, pyrotechnic design and compliance with the chosen theme.
The assessment marks and any other documents used by members of the jury in relation to their marks are confidential and remain the sole property of the SEMEC. Each member of the jury has a score sheet that remains confidential until the final deliberation. After each display, these sheets are collected and kept by a SEMEC representative until the subsequent display.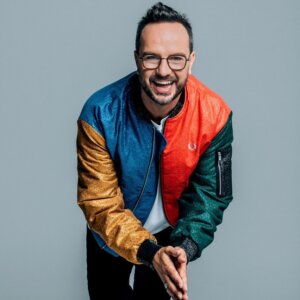 Humorist, actor…
Jarry is one of France's favourite comedians with no less than three one-man shows to his credit, including his latest, "Titre", with which he has just completed a sold-out tour.
He is also an actor, director and scriptwriter.
His latest TV film, "À tes côtés", broadcast last October, is a comedy-drama that was a real success on TF1.
But Jarry never stop to surprise us and he has decided to take a real turn in his career by joining France 2, where he host a new show, the "Big Show", on Saturday nights.
Humor, cinema, television, this true phenomenon filled with madness, love and benevolence is a must in our audiovisual and cinematographic landscape.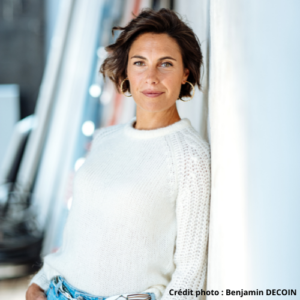 Writer, Producer and Actor
Born in Lyon in 1976, Alessandra Sublet initially studied classical dance and did more than 10 years of sport studies. She studied at the "Institut supérieur de la communication, de la presse et de l'audiovisuel" (ISCPA) in Lyon, before leaving France to settle in the United States. She then joined the MTV channel in New York.
From 2003 to 2004, she became a columnist in the team of "Combien ça coûte?" After two years as a daily host on the Canal + morning show, she joined the M6 group in 2006 to present "Classé Confidentiel", "Incroyable talent" and "L'amour est dans le pré". In September 2009, she joined France Télévisions where she hosted and produced the daily program "C'est à vous" on France 5 for four years. After a stint on Europe 1 and France Inter, she returned to TF1 in 2015 to present several live events and new formats. Then from 2018 to 2022, she co-hosted "C'est Canteloup" alongside the comedian. She produces documentaries on Netflix, notably "Antoine Griezmann", "The making of a legend" and "Tony Parker", "The Final Shot" which will be a worldwide success. In 2022, Alessandra Sublet stopped television to devote herself to the stage and the cinema. She is notably in the film "Handi-Gang" by Stéphanie Pilonca. She has written two books, "T'as le blues baby" and "J'emmerde Cendrillon", which have sold over 30,000 copies.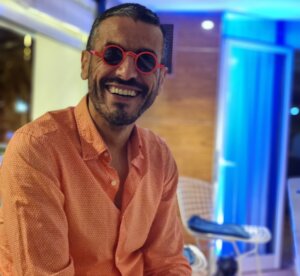 Artist, sculptor, painter
David David, born in Nancy, is a self-taught French artist. He is a painter, sculptor and visual artist, known for his character with his bucket tipped over his head.
After more than a decade, David David has nothing to envy to his fathers and is undoubtedly part of the international contemporary art scene.
Well represented in Europe and the United States, the artist is now exporting to Singapore, thus marking his entry into the Asian market, which is prized by the most discerning aficionados. Colourful, committed, daring and endowed with a certain sincerity and humility, David David's aura does not stop there.
His pugnacity and insatiability make him a highly creative artist who only reinvents himself.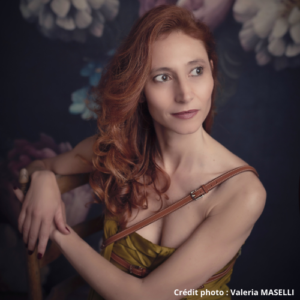 Choreographer
After studying dance with Rosella Hightower, she was noticed by Eric Vu An, who hired her as a soloist with the Avignon Opera Ballet, where she performed the classical and contemporary repertoire.
In 2007, as part of the Hivernales during the Avignon Festival and at the Théâtre Sylvia Montfort in Paris, she performed the lead role in Swan Lac by Andy Degroat. She quickly affirmed her vocation for choreography by creating numerous opera ballets. A few years later, she created her own company, which performed in various venues and cultural events.
Eugénie Andrin received the Défi- award for the project Ondine presented at the Avignon Festival in 2009, as well as the ADAMI grant in 2013 for the show PHEDRE, la dernière danse. The company, resident at Anthéa, has created many shows there: « PHEDRE, la dernière danse » (2013), « Les Passagers » (2015)…
Solicited for Artistic and Cultural Education projects, the company obtained the approval of the Nice Academy in October 2020. In December 2021, the participative show for 5 professional dancers and 40 high school students, Breathe, Breathe! co-produced by Anthéa, is presented during the Cannes Dance Festival. This project is supported by the DRAC Provence-Alpes Côte d'Azur, the Région Sud and Arsud. In July 2020, Eugénie Andrin was named Chevalier de l'Ordre des Arts et Lettres. She published her first essay, L'avant-garde en danse à travers les grandes œuvres des Ballets Russes, in March 2022.