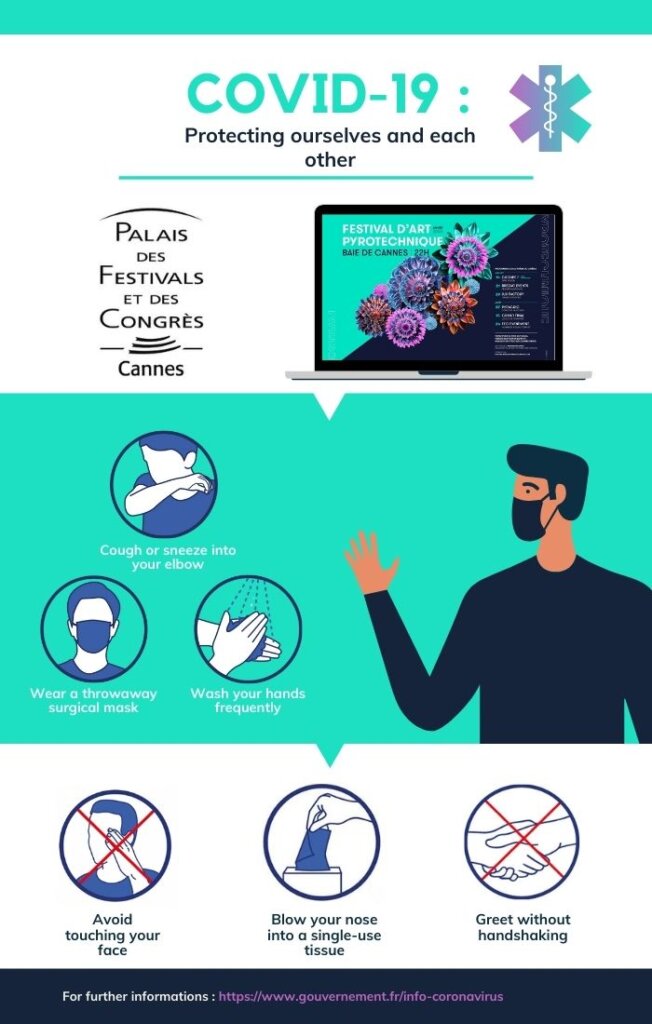 The progressive evolution of the situation leads to the adaptation of some of the restrictive measures. The use of a mask is not compulsory outside (according to the announcement of Jean Castex on Wednesday, the 16th of June 2021). Nevertheless, (according to the decision n°2021-757 of the Maritime Alps prefecture) it remains compulsory during gatherings like manifestations, especially fireworks. Also, we encourage you to wear it when distancing is not respected so this allows you to be protected to the greatest degree possible.
To this date, the « sanitary pass » will not be required to assist at the different fireworks.
However, simple preventive actions, adopted on a daily basis, allow the reduction of the transmission of viral infection in pandemic times. These actions create a barrier that blocks the virus and contribute to protect ourselves and our surroundings.
Protecting ourselves and each other :
Frequently wash our hands. Using soap and water or hand sanitizer.
Stand at a distance from any person who cough or sneeze.
Wear a mask when social distancing is not possible.
Avoid touching our eyes, nose and mouth.
In the case of sneezing, cover the nose and the mouth with the inside of your arm or with a tissue.
Stay at home if you're not feeling well.
If you have fever, that you cough or if you have difficulties to breathe, consult a health professi