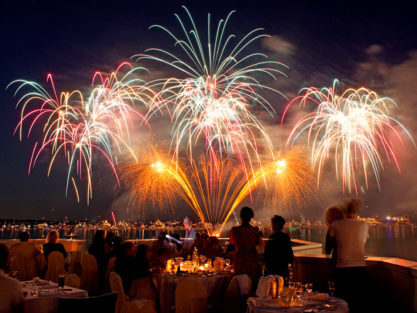 An unimpeded view over the bay of Cannes to attend the display away from the crowd
Lodges:
Lodges that can host 45 persons from 8pm to midnight.
2022 season dates :  july 21 and  july 30, august 08, 15 and 24 
– A private space on the Palais Roof Top
– A finger buffet including wine and champagne (based on one bottle for 4 people)
– Space decorated in your company's colours
Plus… 
– A lounge atmosphere provided by a DJ
– A souvenir photo-call in the evening's colours
– Gourmet workshops 
– A champagne bar
ACCESS: 
Roof Top – Palais des Festivals et des Congrès 
Esplanade Georges Pompidou
06400 Cannes  
PARKING:
Palais des Festivals car park
Facebook: festivaldartpyrothecniquecannes
*Hours may change depending on weather conditions.
The organizer reserves the right to cancel this offer in accordance with the weather conditions.